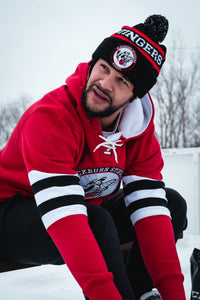 Made Exclusively & 100% Custom for the Blackburn Stingers.
The Stingers Jacquard knit toque features a knit in Stingers front and back font logo, Front Twill Applique/Embroidered Stingers Logo, a double jacquard knit stripe and a 2-tone pompom for an added touch.
One Size Fits Most

ORDER NOW THESE WILL SELL OUT FAST- ONLY A LIMITED QUANTITY IS AVAILABLE.